Cave Diving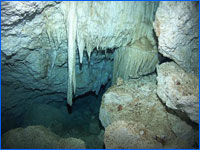 NAGUA
El Dudu / Cueva de Lily / Pozo de los Caballo. Two freshwater lakes are the starting points to a cave system with several tunnels, together around 700m long. During the dive to a maximum depth of 22 m (72 ft) the diver will see a bizarre world of stalactites and stalagmites, fossils, crabs and shrimp.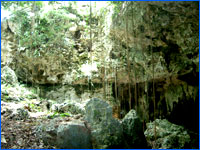 MACAO
The Macao Cave is only 30 minutes from Bávaro, and is a perfect place to take the first step to cave diving. Crystal clear spring water and the clarity of the system make it easy to dive in the new environment.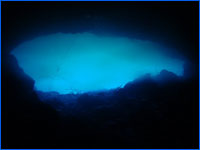 PUNTA CANA
Laguna Pepe – The dive starts in the green water of the lagoon and continues, after a few meters, into the clear blue of the cave. A cave with a unique "Lightshow".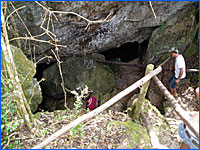 BAYAHIBE
National Park of the East. Padre Nuestro Cave - One main tunnel with a length of 300m and a cathedral at the end describes this fantastic cave. The dive's maximum depth is 15m (50 ft). Chicho Cave - A very spacious cave system. Silt covers huge areas of the bottom. Only for very experienced divers with excellent buoyancy.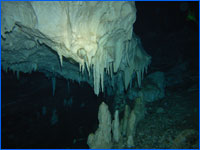 SANTO DOMINGO
Cueva Taina, one of the best caves of the Dominican Republic, offers a lot of variety. Tunnels, junctions, narrowing and a depth to 48 m (158 ft) are ideal for the training for all levels of cave diving classes.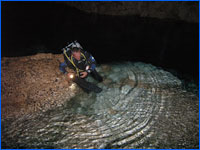 PEDERNALES
Asfalto /Trou Nicolas/ La Piscina /La Hícotea /Palo de Luz are only some of countless caves close to the border with Haiti. Trips to that area are expeditionary in character.
Wreck Diving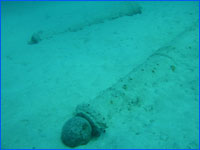 MONTE CRISTI
The Underwater National Park of Monte Cristi is the major ancient shipwreck graveyard of the Caribbean. Only 23 of more than a hundred wrecks have been located. Experienced divers can join marine archaeologists during their work.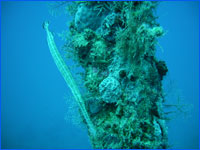 MICHES
The Tolosa (1724), Our Lady of Guadalupe (1724) and the Scipion (1782) are three galleons in the bay of Samaná. A dive there will take you back to the Spanish colonial period.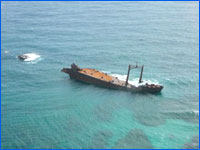 PUNTA CANA / BAVARO
The Astron (freighter) and the Monica (railway cargo) are in front of the hotels of Bávaro / Punta Cana. So it's only a short boat ride to a nice wreck dive.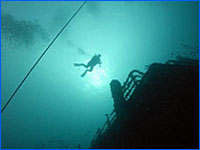 BAYAHIBE
Saint George Wreck - One of the best wreck dives of the island. With a length of 80 m (260 ft) and at a depth of 40m (130 ft) it's developing into an artificial reef which attracts all kinds of fish.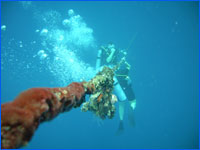 JUAN DOLIO
Wreck Tanya V - A good place to swim with barracuda, tuna and mackerel at 35 m (115 ft).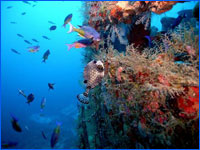 LA CALETA
The Underwater National Park of La Caleta contains the wrecks of the Hickory (Treasure Hunter), El Limón and Captain Alsina. Especially the Hickory is at the high end of wreck diving in the Dominican Republic and will afford an unforgettable dive.
Reef Diving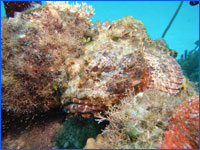 PUNTA RUCIA
A fishing village close to the underwater national park of Monte Cristi is the starting point to the famous coral island of Cayo Arena.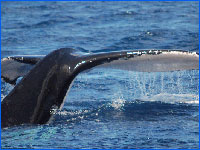 SILVER BANK
A five hour boat ride from Puerto Plata. Only here is it permitted to dive with humpback whales. (January to March)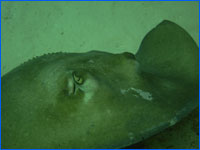 PLAYA DORADA / SOSUA / CABARETE
The "Airport Wall"- best wall dive side on the northern coast, or "Chiquita Reef" with its stingrays and great schools of fish.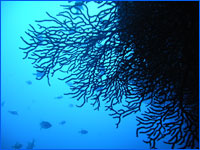 LAS GALERAS
Perfect wall diving and sea caves at Cabo Cabrón and Punta Tisbi to maximum depths of 66 mts/ 200 ft.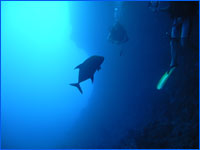 PUNTA CANA / BAVARO
"Macao Rock" in the middle of nowhere is a meeting point of big schools of barracuda.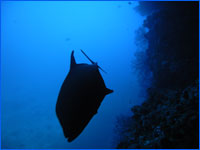 MONA PASSAGE / MONA ISLAND / MONITA ISLAND
The islands are called "The Caribbean Galapagos". Absolute adrenalin diving with drop offs, caves, wrecks and drift diving. Turtles and big fish guaranteed. Aquatrack is the first and only dive operator authorized to offer this trip from the Dominican Republic.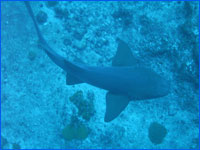 SAONA ISLAND / SHARK POINT
A sea mountain where the Atlantic Ocean meets the Caribbean Sea. A chance to see nurse and reef sharks, eagle and stingrays.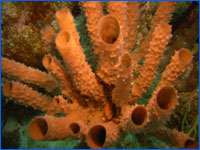 BAYAHIBE
Peñon I/II/III Extremely varied reef and a perfect place for photography. Peñon I is also called Eagle Ray Corner.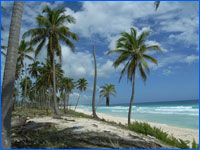 CATALINA ISLAND
"The Wall"- Drop off to 50 m / 150 ft with nice Gorgonians. "Aquarium"- Great site to see sea horses, rays, lobster, and moray eels. Note: These two dive sites are frequented by many dive operators!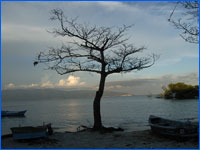 ISLA BEATA / ISLA ALTO ISLE
The trips to the south end of the Dominican Republic have an absolute expedition character. Away from civilization, this area will become a new diver destination in the future. See it now.